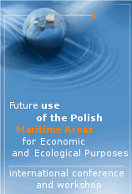 On 21st-22nd October an international conference on future uses of the Polish maritime areas took place in Gdynia. The conference aim was to create synergy between National Spatial Development Concept (NSDC), maritime policy and other policies influencing marine space in Poland, through initiation of a interdisciplinary discussion on management of the sea areas, that should be based on deepened knowledge on future sea uses.
The conference under the patronage of the Ministry of Regional Development and the Ministry of Infrastructure was organized by the Maritime Institute in Gdańsk in  co-operation with  Macroeconomic Department of the Gdańsk University and Research on Cities and Regions Department of the Szczecin University.
The conference enjoyed a great interest of stakeholders: 168 representatives of 28 sectors took part in the event! Participants represented a broad spectrum of organizations:  R&D, business including SMEs, administration (regional and local level, maritime administration) as well as NGOs.
The conference was chaired by Charles Ehler – world-famous American expert in maritime spatial planning. 
On the first day Ms. Hanna Jahns (Secretary of State Ministry of Regional Development) introduced participants into the conference subject. Ms. Birgit Snoeren  from the Commission of European Communities (DG ENV)  presented the state of art in the Commission works on EU maritime policy stressing Sustainable Management of Sea and Coast. After that 12 presentations on innovative future uses of the sea areas in Poland were given. Selected in the call presentations concerned following fields: environmental protection, maricultures, ports&regions' development, tourism, marine energetic, and sustainable fishery. Conclusions from this foresight session will be put forward to the Ministry of Regional Development as recommendations to the NSDC.
On the second day Mr. Andrzej Gdula (Polish Ministry of Infrastructure)  presented the Polish Maritime Policy, after that Polish experiences from the pilot drafting of the maritime spatial plan for the western part of the Gdańsk Gulf  were discussed with special attention to ecological aspects and to interactions between spatial planning on land and of the maritime areas.
Conclusions, recommendations as well as papers from the foresight session will be published in the post conference publication.
For impressions from the conference, please visit Gallery!